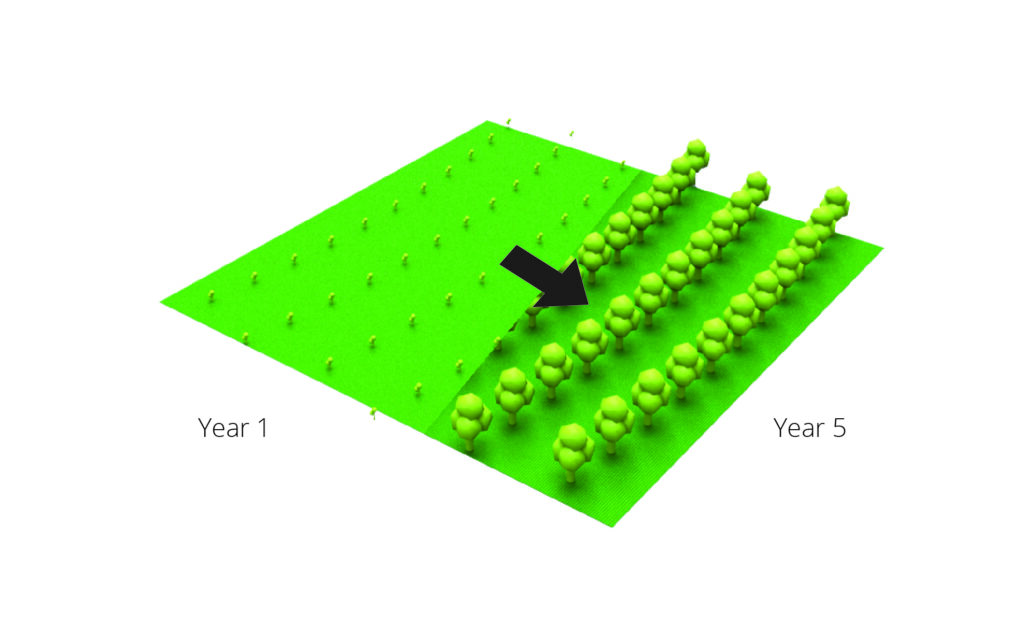 From proper agroforestry business development and financing to successional planning and long-term offtake agreements, there are many elements that can contribute to de-risking and easing your transition to agroforestry. But where to start? We have created the regenerative agroforestry accelerator to help farmers and land-owners in their transition to agroforestry.
What is the accelerator?
The accelerator is a bi-annual program where we help cohorts of farmers with their transition to Regenerative Agroforestry. Applications for the next cohort is now open. Deadline to apply is 30th of September. You can apply here and we will get in touch with more info.
Pre-accelerator screening
Each iteration of the program starts with an initial phase where farmers and project owners can apply to the upcoming accelerator. During this phase we do an initial screening to evaluate the financial and regenerative potential of each specific project. Based on that the most promising farms/projects are selected for the accelerator.
Accelerator
The accelerator itself runs for 4 months during which each participating farm gets a tailor made program to accelerate their transition to agroforestry. This includes for planning, business development, financial planning and much more. After the official 4 months we evaluate with the individual farmer if there is a potential to continue the program for them. There is no fee to apply for the accelerator.
What does the accelerator cover?
Each program is tailor made for the individual farmer and we go through a series of specific subjects to ensure a holistic approach to the agroforestry transition. We use our innovative planning tool RegenWorks Plant and it's integrated planning and financial modelling tools throughout the program.
Agroforestry system design and farm planning
Whether the project is a single field or a whole farm we define the holistic context of the area. This involves looking at what assets are already on the farm and what the market is looking like. Then actual planning of the different areas begin and new agroforestry systems are explored. For each system and field the different successional stages are defined. The initial young stage, the desired mature stage and intermediary stages to ease transition and ensure revenue streams while the system matures. This also involves looking at seasonal activities and how a new system can complement existing operations on the farm.
Agroforestry business development
We look at the market and explore ways of distributing final products. There might be existing distribution channels or processing equipment that might be utilized for outputs of the agroforestry system. We look at how existing assets and new agroforestry systems can come together to create a good long-term business. Different processing and value added activities are explored. This can often greatly increase the profitability of the farm enterprise.
Through the financial tools of the digital platform we assist with financial analysis of the agroforestry project. This makes it possible to analyze the changing revenue streams over time. This might result in making changes to the different successional stages of the system design to ensure enough cash flow to survive to the mature system.
Funding the transition to agroforestry
One of the goals in doing the farm planning and business development is to increase the cash-flow in earlier stages of the agroforestry system. This can greatly reduce the amount of upfront investment needed to get started with agroforestry. In addition to this, different implementation strategies are explored. This can help to lower the initial investment needed to reach the desired mature state.
In most cases there still might be a need for financing the transition. During the accelerator we help assess different options for financing that might best suit the individual farmers needs. This can be anything from direct investments, grants or loans to crowdfunding and DeFi (digital finance). We see that there are a lot of great options for financing the transition to agroforestry and we want to create an environment where farmers can pick and choose the right solution for them.
Market validation and setting up distribution channels
One thing is to have theoretical cash-flow and cost structures, another thing is to actually ensure that cash-flow is generated once the agroforestry system has been implemented. We often see this is a big challenge for farmers, that there is a big uncertainty in whether or not they can actually sell the products they produce with their new agroforestry system.
During the program we look at instruments to validate the regional market for potential new products. This could be reward-based crowdfunding campaigns that might also help with funding or setting up agreements with restaurants. Additionally we partner with a consumer brand, food service and co-ops to ensure long-term offtake of the agroforestry products. This can ensure cash-flow and reduce risks associated with transitioning to new agroforestry system with new products.
De-risking agroforestry adoption to cultivate agroforestry system and business model innovation
Our vision is the accelerate the transition to regenerative land-use practices and what better way to do this than with an agroforestry accelerator? We see a huge potential in agroforestry, but there is still a lot of room to find new innovative solutions. We need to create an environment where farmers can innovate on agroforestry systems and business models with low risk and even if they have existing debt. Our accelerator creates this low-risk environment that increases the incentive to innovative, because there is no downside.
Powered by our digital RegenWorks platform and the underlying technology, we believe that we are in a unique position to cultivate and nourish the emerging regenerative land-use paradigm through this accelerator.
Sounds interesting?
Interested in our Regenerative Agroforestry Accelerator? Then apply in the corresponding categories below.
For farmers and project owners
Can't wait to get going with agroforestry? Then hit the apply button below and get started.
For regional partners
Interested in contributing to the accelerator as a partner? Then let us know about how you think farmers could benefit from your support.