"A revolutionary agroforestry planning software for farm managers and agricultural service providers"
We are developing RegenWorks, an innovate software for agroforestry planning. RegenWorks is a fast and cheap way to find suited agroforestry systems for your customers land and enterprise. The tool utilizes modern satellite technology and artificial intelligence to assess the land and find the most suited type of agroforestry. It taps into our unique database of proven agroforestry systems from across the globe. So if you work with farmers that are interested in production systems that build resilience and mitigate climate change RegenWorks is the perfect tool for you.
Features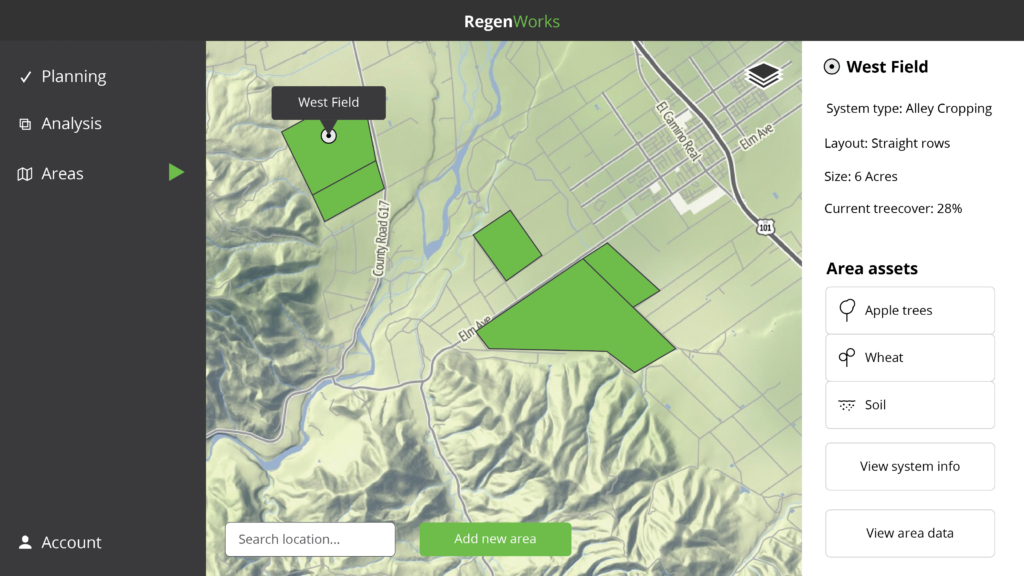 Simple interface and automated data processing
Keep on top of things and save time
Every farm is unique. With RegenWorks it becomes easy and fast to do context-specific agroforestry designs and plans for individual pieces of land.
Create individual areas to keep track of different practices and physical characteristics.
Define the production system of each individual area.
Automatic processing of GIS data – No need for knowledge about GIS or data analysis.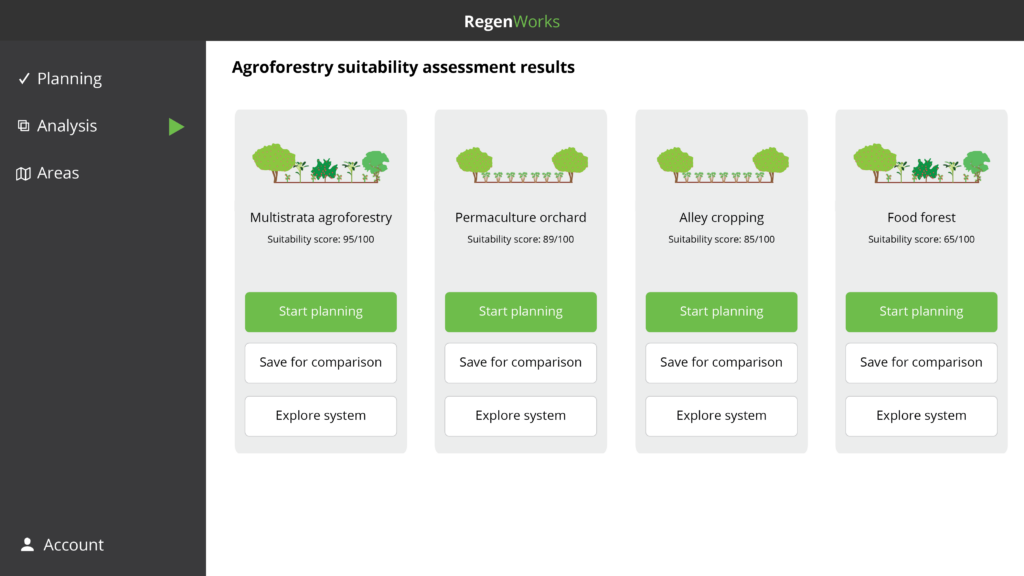 Data-driven agroforestry suitability assessment
Help your customers find the perfect agroforestry systems for their land and enterprise
Tap into Regen Farmers comprehensive database and agroforestry assessment solution and find agroforestry systems most suited for your clients land and enterprise. No matter if you are an experienced agroforestry service provider or conventional agricultural consultant the suitability assessment can save you an immense amount of time when evaluating suited agroforestry systems. Read more about our innovative agroforestry suitability assessment solution that RegenWorks is built on here.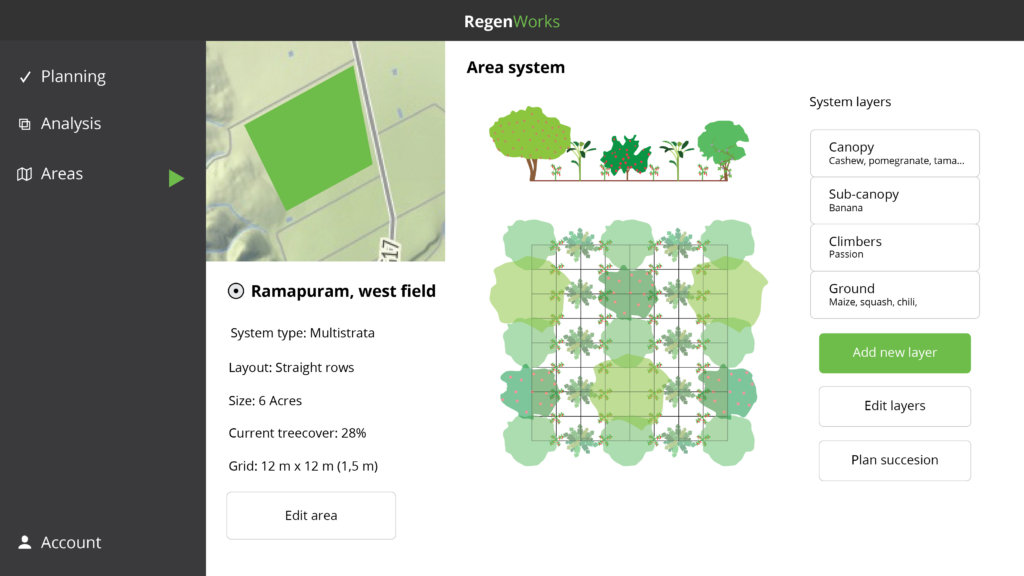 Detailed system design
Get a hold on every detail of the system
Go a step further and define every detail in the production system.
Define layout
Define rows and placement of plants in rows
Define varieties and breeds
Estimate tree cover
Estimate amount of plants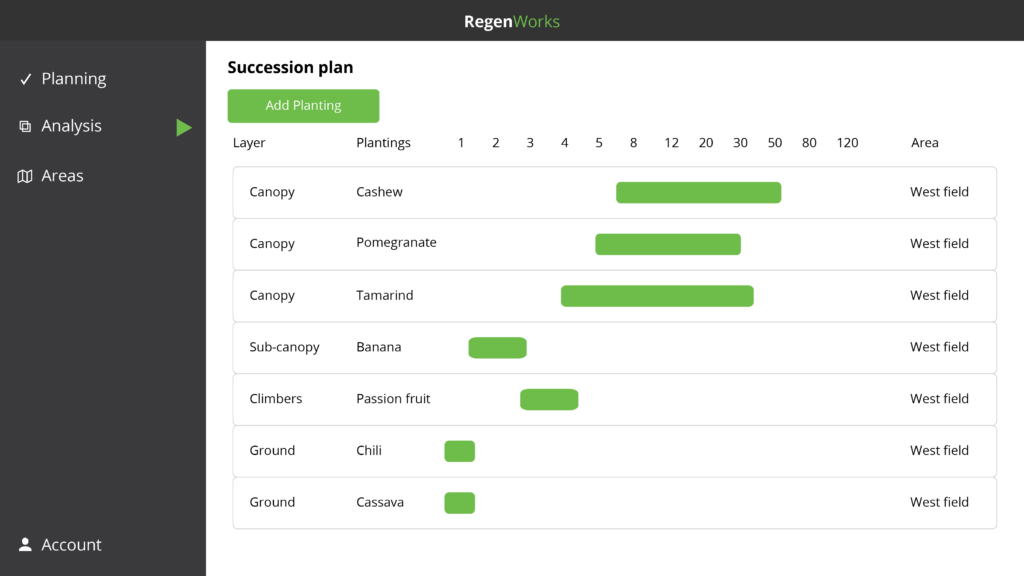 Succession and forecasting
Get time on your side and make informed decisions on both short and long term
Analyse how the system performs over time and make changes accordingly. Plan succession in different system layers to ensure stability of production for both commodity products, local food security crops and biomass production.
Plan succession (such as syntropic farming principles)
Define Land Equivalent Ration (LER) to forecast Yield and Biomass production for integrated systems.
Sign up for early access and get a discount!
Sign up to our limited early access program now and get the agroforestry software at a highly discounted rate for all of 2020 now.
Benefits of our agroforestry planning software
Cheaper
Save time and reduce costs
Save time doing tedious research and information gathering and get right to the fun part of designing the landscape and systems. This gives you more time to deliver value to the clients.

Faster
Fast project turnaround
With our assessment solution, you can save up to 80% of your time and get at quick project turnaround time. This makes it possible to take on more clients and at the same time deliver the same value to existing clientele.

Better
Improved quality and value delivered to clients
Our solution analyses thousand of different options and metrics. This evidently uncovers options that you would have otherwise not found or you might have used endless hours finding. This strengthens your value creation and enhances the quality of work you deliver which in the end empowers your customers with improved decision making.
Harvest the benefits now!
Sign up for the early access program.