"A revolutionary agroforestry planning software for farmers, farm managers and agricultural service providers"
We are developing RegenWorks, an innovate software for agroforestry planning. RegenWorks is a fast and cheap way to find suited agroforestry systems for a specific piece of land and enterprise. The software taps into our unique database of proven agroforestry systems from across the globe. So if you want to work with production systems that build resilience and mitigate climate change RegenWorks is the perfect tool for you.
Features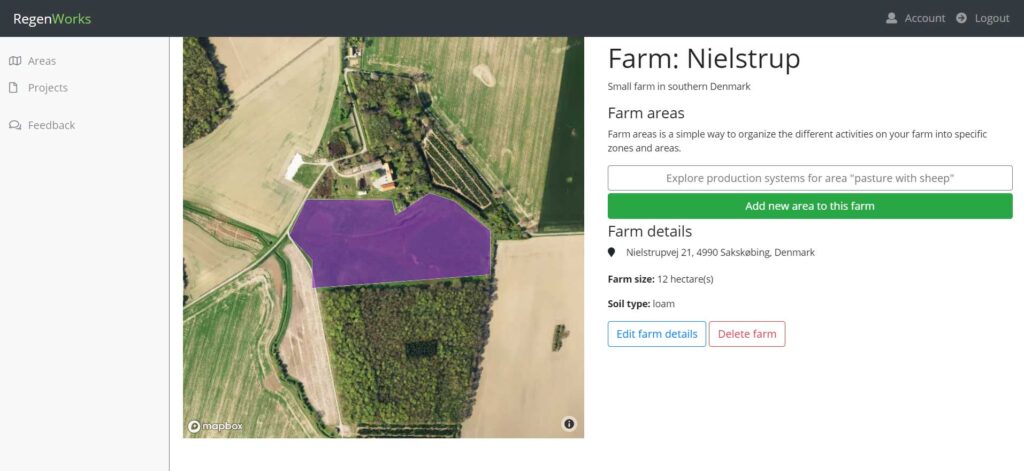 Mapping
Keep on top of things and save time
Every farm is unique. With RegenWorks it becomes easy and fast to do context-specific agroforestry designs and plans for individual pieces of land.
Create individual areas to keep track of different activities on the farm
Define the current production system of each individual area
Define existing assets such as tree stands, soil quality or animal herds
Automated climate and weather definition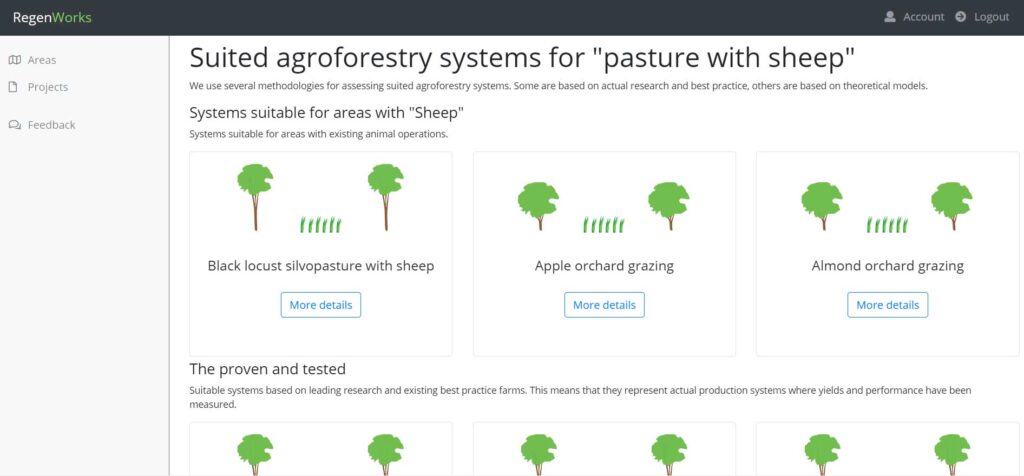 Agroforestry system analysis
Find the perfect agroforestry systems for a specific piece of land and enterprise
The agroforestry system analysis can save you an immense amount of time when evaluating suited agroforestry systems.
Explore agroforestry systems suited for a specific piece of land
Data-driven process enables unique customized results for specific areas of land
Compare the ecological and financial performance of individual systems
System timeline makes it possible to review previous changes to the existing system and plan future system changes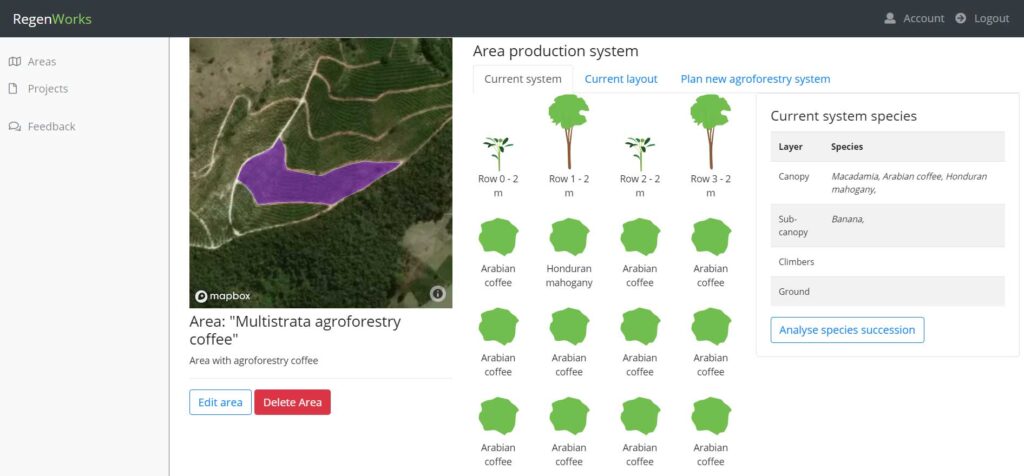 Detailed system design
Get a hold on every detail of the system
Go a step further and define every detail in the production system. This can be used both for defining the current production system and to explore future revisions of the production.
Define rows and placement of plants in rows

Define varieties and breeds
Define animal integration and stocking capacity for silvopasture systems
Explore species options for multistory/multistrata systems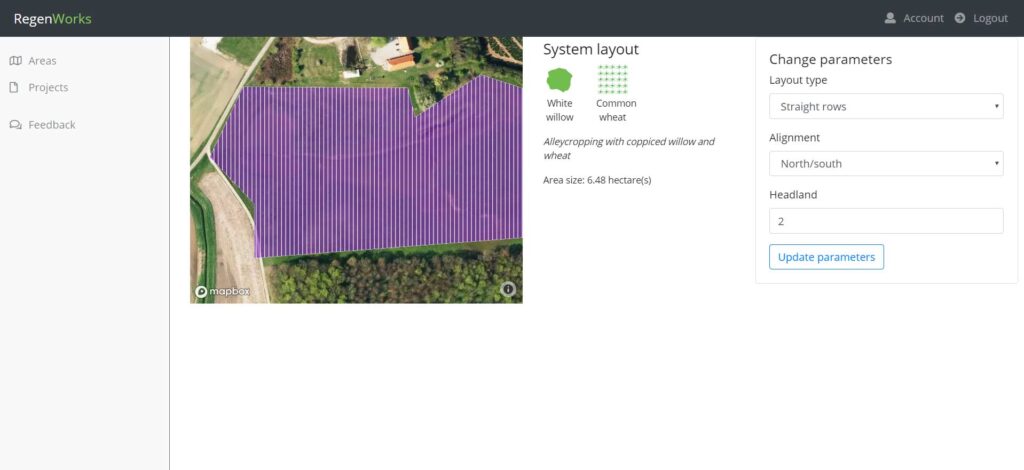 System layout
Explore various system layout options for the agroforestry system on a specific piece of land.
Explore and define different layout options
Estimate tree cover and plant material requirements for system establishment
Directly ties into budgeting feature to automatically create budgets that makes it easy to compare the financial performance of different systems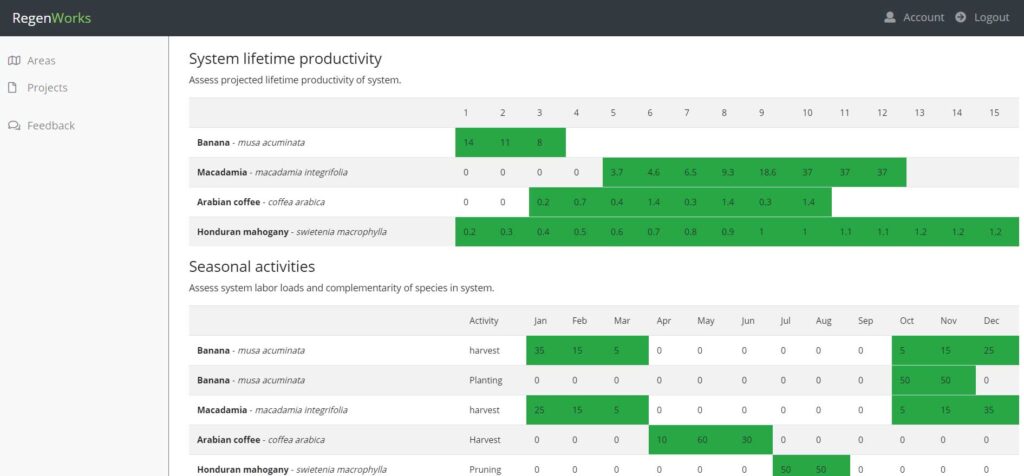 Succession, yield forecasting and crop planning
Get time on your side and make informed decisions on both short and long term
Analyse how the system performs over time and make changes accordingly. Plan succession in different system layers to ensure stability of production for both commodity products, local food security crops and biomass production.
Plan crops and ecological succession for the system
Explore productivity on both species and system level for individual areas of land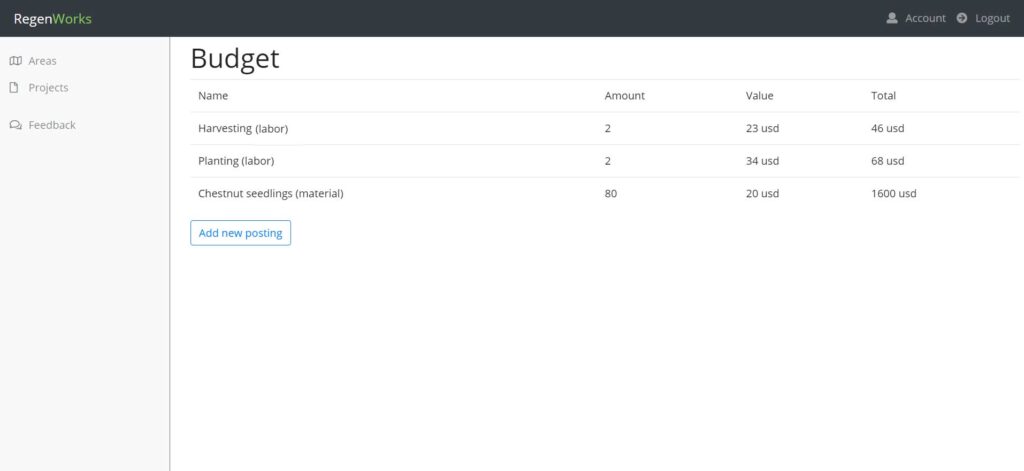 Financial analysis and budgeting
Plan and optimize profitable agroforestry enterprises
Analyse and plan financial aspects of the agroforestry system and your enterprise with the projects feature.
Analyse the financial performance of the individual implementation project including IRR, NPV, AEV and more.
Explore various options for enhancing the financial performance of the system

Plan and track activities required to establish the agroforestry system with the project planning feature
RegenWorks early access plans
Sign up for early access and get a discount!
Sign up to our limited early access program and get access to the RegenWorks software now at a highly discounted rate.
Consultant plan
Up to 5 active farms
Request more info
Not sure which plan to choose? Then get in touch with our sales.