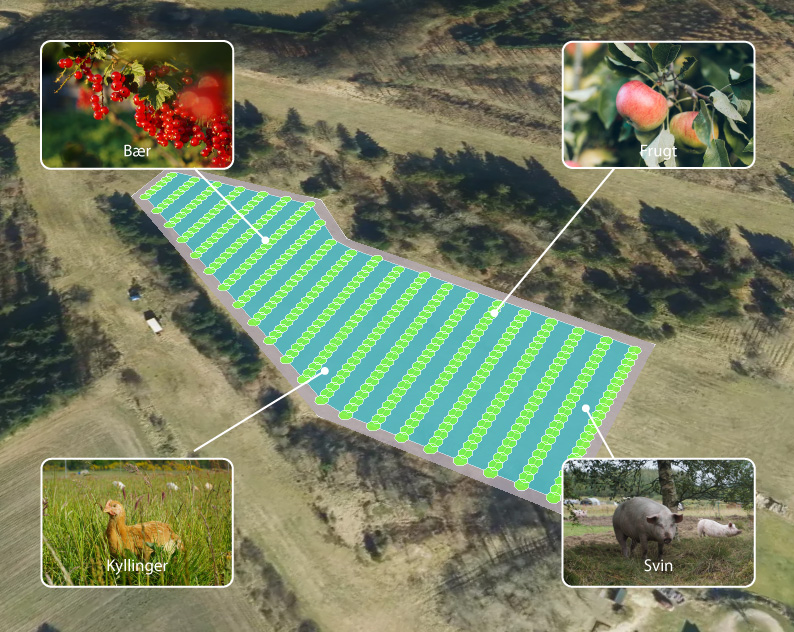 Our agroforestry screening is the perfect solution for farmers and land-owners looking to explore how agroforestry can make their enterprise more robust and profitable.
We do an initial remote assessment of the farm based on existing land use and climate. The outcome is a report with initial evaluation of potential agroforestry designs and business opportunities. This can be a good start if you are not really familiar with agroforestry and the different aspects that are important when working with this type of land-use.
The screening also include quick layouts of different potential agroforestry systems applied on your land so you can get an idea of how it might look in practice. This way the screening can help to quickly get some concrete examples on the table.
Agroforestry screening packages
Starter € 495,-
Get an overview of different agroforestry options for your land so you can make the right decisions. Package includes:
Definition of goals and requirements for agroforestry system on your farm

Assessment of

farm ecological and economic context
Mapping of different areas on the farm
Idea-catalogue with potential suitable systems visualized on your land
Basic € 1495,-
Everything you need to start implementation of agroforestry on your land.
Includes everything in the Starter package +

Species selection

Detailed system design
Planting plans
Implementation plans
Pro € 2995,-
Get professional economic insight into new agroforestry systems and help with financing.
Includes everything in the Basic package +
Establishment and cash-flow budgets
Financial analysis
Exploration of potential instruments to finance the

establishment of your agroforestry systems

Business development and potential value-adding activities
Get started today