In Q2 we have seen major achievements in all our three core areas: core tech, digital product and agroforestry project development services.
On the technology and digital infrastructure side we are building an Open Platform Architecture to encourage interoperability between digital tools and models in the agroforestry ecosystem. This work is part of the DigitAF project and it's creating the foundation for a highly innovative and collaborative ecosystem that will greatly impact the next 5-10 years in this space.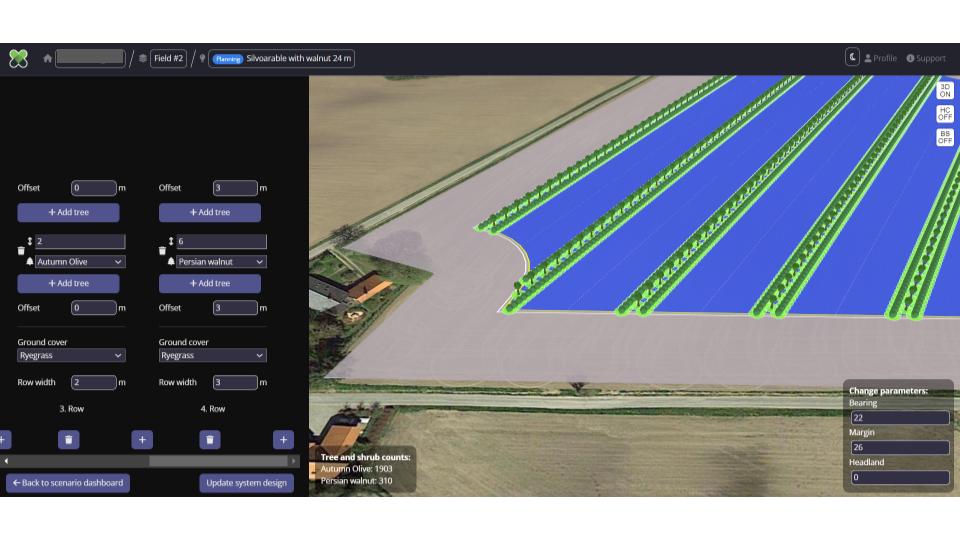 On the product side we just released our newest version (v2023.1) of our agroforestry design software RegenWorks. This is the culmination of a lot of underlying work that is finally paying off on the product's quality and performance. The new version packs a full redesign of the agroforestry system design and layout features. It's now all seamlessly integrated so you can design/edit your agroforestry system model (Panel on the left) and see changes in real-time on the individual field (Map view on the right with 3D layout of trees/shrubs).
On the project development side we launched an extended set of services in early June, to cater to an increasing demand for agroforestry project development. This extends our existing agroforestry design services, with actual project development services such as implementation plans, project management, site prep, tree planting services and continuous production optimization and management support after trees have been put in the ground.
It really feels like a lot of things are finally converging and I really look forward to all the great things we have in store for Q3!