The RegenWorks software is being developed from the ground up to cater to the needs of consultants and professionals working with shade-grown coffee agroforestry systems. With RegenWorks you can quickly plan and optimize coffee based agroforestry systems to improve profits, resilience and sustainability for your clients. The software works well for both optimization of existing agroforestry based coffee productions and for the implementation of agroforestry systems in coffee productions where agroforestry is not the current system.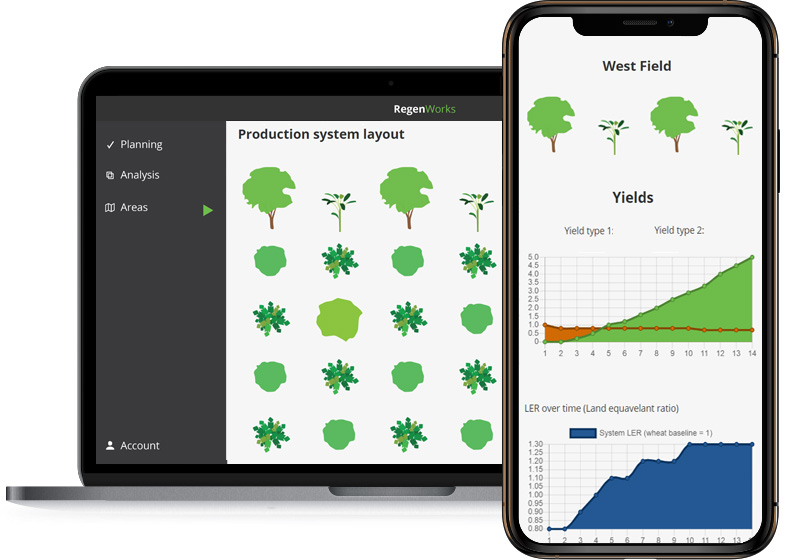 Software features
Farm area mapping and visual agroforestry system design tool makes it easy to get an overview of clients properties and plan their production system.
Data analysis and agroforestry suitability assessment helps you find the most suited systems and species for individual clients.
Financial analysis and budgeting ensure that the farming enterprise optimizes profits and reduce financial risks.
Compare system performance and forecast productivity to optimize productivity and ensure long term system stability.
Benefits of using RegenWorks software
Save time and reduce costs
Save time doing tedious research and information gathering and get right to the fun part of designing the landscape and systems. This gives you more time to deliver value to the clients.
Fast project turnaround
With our assessment solution, you can save time and get at quick project turnaround time. This makes it possible to take on more clients and at the same time deliver the same value to existing clientele.
Improved quality and value delivered to farmers
Our solution analyses thousand of different options and metrics. This evidently uncovers options that you would have otherwise not found which increase the value you can provide to farmers.
Get started with RegenWorks now
RegenWorks is under development and you can get early access to the software now. Sign up to the early access program and get access to the RegenWorks software now at a highly discounted rate or try the 14 days free trial.
Benefits of agroforestry based production system for farmers and growers
Increased resilience
Agroforestry systems help to diversify yields, increase biodiversity and reduce the need for inputs. This creates a more resilient production system that is better suited for a changing climate.
Increased profit
Agroforestry systems are better at optimizing resources such as water, nutrients and light. This gives higher productivity and at the same to it reduces inputs. This increases profits for the coffee grower.
More sustainable
Be on the forefront and offer your clientele of coffee farmers a way to improve their sustainability through diverse agroforestry systems.