Our regenerative system screening has two steps. First we do an assessment of your current farming system. Based on this assessment we create a baseline regenerative assessment. This enables us to screen and recommend regenerative practices that are viable to implement on your farm.
Regenerative assessment framework
We have developed an extended framework that goes beyond sustainability to evaluate true regeneration. The assessment addresses 6 key areas and evaluates the performance of your specific farming enterprise.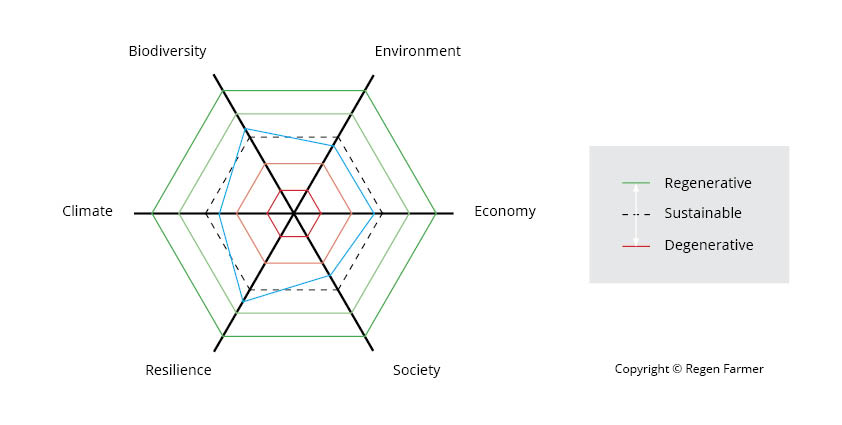 Regenerative assessment process
1. Baseline
2. Define focus areas
3. Identify suited improvements
Based on your specific profile we will assess and present new regenerative states that are viable to implement on your farm. This includes projected benefits of implementing it on your farm, making it easy to browse and explore different options. In collaboration with you we explore the different viable options and find the system that suits your needs.
Based on regional and local parameters like soil type, topography, weather, economic factors, local policies and your current agricultural system we will generate a unique profile for your specific farm.
Let's get regenerative!
Interested in learning more about our regenerative assessment or ready to get an offer. Please submit your email below and we will get in touch with you.
Integrate with planning and implementation services
After settling on a specific new regenerative state we assist with planning and implementation, ensuring a smooth transition to new regenerative practices. Depending on the system chosen as the desired future system, we have services tailor made to the planning and implementation of that specific practice.
Agroforestry
Please find below a list of services specifically designed for the planning, implementation and optimization of agroforestry systems.
(Coming soon) Layout: Landscape design
(Coming soon) System: Material flow analysis and system flow simulation (light, water and nutrient flows)
(Coming soon) Resilience: Farm resilience and robustness simulation.