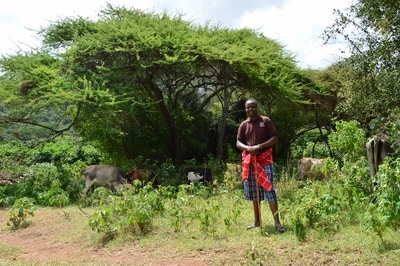 Organization: Maasai Center for Regenerative Pastorialism
Location: Kajiado County, Kenya
Project Type: Design, planning and financing of agroforestry project
Transition: Regenerative Grazing
Effects: Carbon sequestration, erosion prevention, preservation of cultural heritage, job creation
Status: Initial project plan ready. Funding starts Autumn 2021.
The project
Grassland/woodland restoration and cultural conservation through regenerative silvopastoralism. The project aims to develop a scalable commercially viable business model that restores land through regenerative farming practices. The pilot project will start with 3-5 change ready families from one village in Kenya and build from there. 
People and Culture
The Maasai people have a long cultural tradition and strong heritage. It is being threatened by development that neglects the rural communities and cultural conservation. Tiampati Dalmas is dedicated to help rural villagers in preserving their heritage, create jobs for the youth and strengthen rural livelihoods. 
Climate
The County has a bimodal rainfall pattern with short rains from October to December, and long rains from March to May. The average annual rainfall is 500mm around Lake Amboseli and Magadi, and 1,250mm on the slopes of Mt Kilimanjaro. The typical vegetation is open grassland, bushed grassland, wood and bush land
Landscape
The main physical features of Kajiado County are plains, valleys and occasional volcanic hills ranging from an altitude of 500 metres above sea level at Lake Magadi to 2500 metres above sea level in Ngong Hills. Topographically, the county is divided into three different areas namely; Rift Valley, Athi Kapiti plains and Central Broken Ground.
Silvopastorial Food system
A savannah based production system such as a regenerative silvopastoral system is more robust financially and in terms of climate adaptation. The system will incorporate several activities to ensure both healthy food for the local community, store carbon in soil and biomass, and improve employment and livelihoods through sales of commodities to larger cities such as Nairobi.